Welcome to the FlameThrowers Wiki
Hello and welcome to the 'FlameThrowers Wiki' where you can dive deeper into the graphic novel 'FlameThrowers' that was created by Brian Taylor in July of 2011. As the story progresses, this wiki page will fill up with more and more information!! **CONTAINS SPOILERS!!**
Where to buy FlameThrowers
Big Planet Comics, 1520 U Street NW/Washington, DC
What is FlameThrowers???
FlameThrowers is the story of a seventeen year old kid named "Glory" who one night while chillin' with his friends witnesses aliens coming to earth. One of the aliens lands close to Glory and his friends, and that is where the story begins....
Graphic Novel
FlameThrowers (Volume 1)
Glory Days
Death Star
Hospital
Alpha Mode
The Tournament Begins
Firestarter
Liquid Wolf
Ignite
Saeglopur
Ladies And Gentlemen
FlameThrowers (Volume 2)
Calm Down
Rock Diesel
Dragon Slayer
Neo Reaper Hell
Inferno
SSO
Big Bad Wolf
Brother
Tyrannosaurus (current)
Current Arc : Universe Tournament
- The Universe Tournament is a competition that's being hosted on the planet earth by a being named Almighty. Twenty five beings of different species have been brought together to compete in this tournament, Glory wasn't originally apart of the count but due to the events that took place he is now a competitor in the tournament. The prize for winning the tournament has yet to be revealed but as of right now the only prize is keeping your home world alive since Almighty has threatened to destroy every losers home planet.
Categories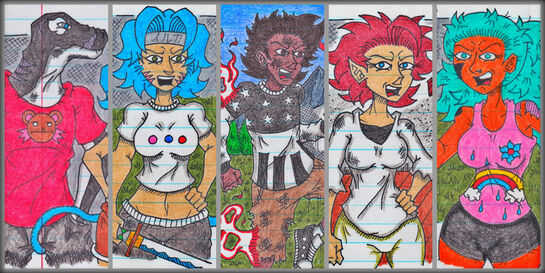 Release Schedule
FlameThrowers (Volume 1, Part 1) *OUT NOW*
FlameThrowers (Volume 1, Part 2) *OUT NOW*
FlameThrowers (Volume 2, Part 1) *OUT NOW*
FlameThrowers (Volume 2, Part 2) 2016
FlameThrowers (Volume 3, Part 1) N/A
FlameThrowers (Online Merch Store)
- The official online merch store for FlameThrowers is live!!! Shirts, Buttons, Posters, Stickers, and more are available now and currently this is the only place you can get some. Check out the store today and try not to buy everything because the next volume should be releasing pretty soon!!!
Ad blocker interference detected!
Wikia is a free-to-use site that makes money from advertising. We have a modified experience for viewers using ad blockers

Wikia is not accessible if you've made further modifications. Remove the custom ad blocker rule(s) and the page will load as expected.